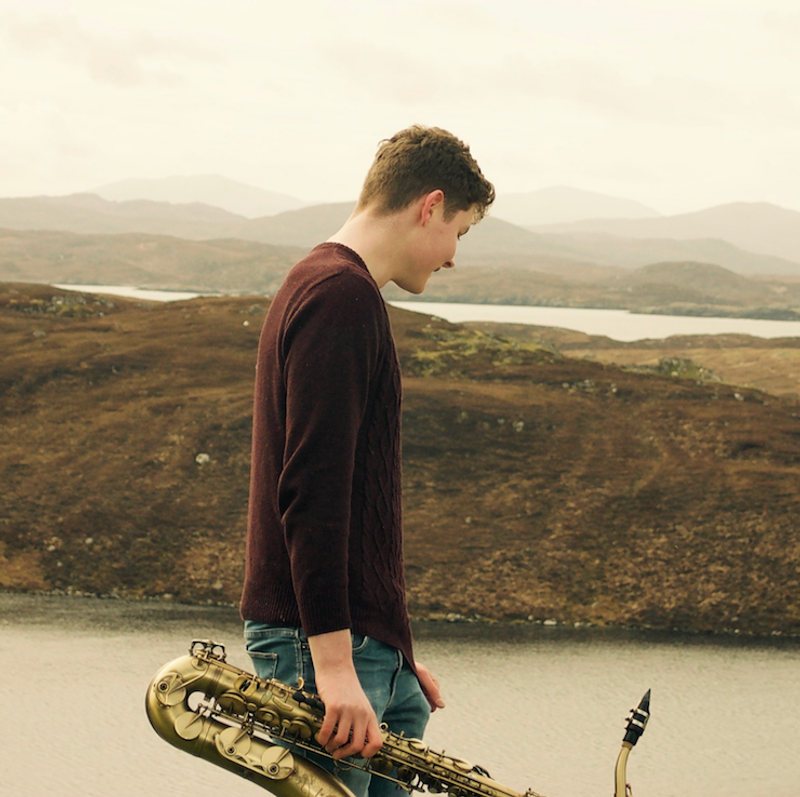 Matthew Carmichael Quartet
+ Baile
£8 / £5 (student)
Entry Requirements: 18+
MATT CARMICHAEL QUARTET Fergus McCreadie - Piano Ali Watson - Bass Tom Potter - Drums Matt Carmichael - Saxophone/compostitions
BAILE Cameron Sharp - Whistles Euan McLaughlin - Guitar Callum Convoy - Bodhran
Matt Carmichael is a 19 year old saxophonist currently studying at the Royal Conservatoire is Scotland. He has played at festivals including including Love Supreme Festival, Newport Jazz Festival USA, BBC Proms, Edinburgh Jazz Festival, Aberdeen Jazz Festival and is a Young Scottish Jazz Musician of the Year Finalist. His recent EP has been featured on BBC Radio 3, BBC Radio Scotland, Jazz FM. His compositions are influenced by jazz and folk music and are described as 'motivic, rousing and unexpectedly thick in texture for such a small band.'
'Commanding' - The Times 'Fast becoming one of the leading lights in Scottish Jazz' - Tommy Smith Fabulous - BBC Radio Scotland
1st set support comes from BAILE who are an up and coming band based in the hub of the Glasgow trad scene. The band's sound comes from the use of the Scottish Border Pipes and Whistles with the backing of Bodhran and Guitar combined to make at times, a huge and driving sound and at others, delicate, weaving melodies. The band formed towards the end of 2016 before launching straight into 2017 with a 'jumpstarting' performance at Celtic Connections Festival Club. The band recorded their debut EP in May that year and released it on Claytara Records in July followed up by a lenghty tour to support the release. Baile have had a busy 2018 having toured The Netherlands and Scotland in April followed by a string of festival dates in Scotland and Italy and an extremely successful tour of the Scotland in August. Having just returned from a tour of Switzerland, Baile look set to make a massive impression in 2019 with return trips to The Netherlands and Italy already confirmed.
Line Up
Matthew Carmichael Quartet
Baile are a young Glasgow based trad band. The band is made up of Euan McLaughlin (Edinburgh), Selina Ross (Kippen), Cameron Sharp (Plockton) and Callum Convoy (Balquhidder). They've played supporting bands such as the Rachel Hair Trio and Tannara as well as playing their own headline gigs across Scotland. The band also performed at the Celtic Connections Festival Club. Baile are currently preparing for several gigs and a tour in August.
Individual bios:
Euan studied at The City of Edinburgh Music School and is currently preparing to study in Glasgow. He's performed with bands such as Ashcroft, Rant, The Mick West Band, The Tim Kliphuis Sextet and a four piece with his brother and parents Frank McLaughlin & Gillian MacDonald at venues all over Scotland and have also performed at The Scots Fiddle Festival as well as events in France and Spain. Euan teaches at Feis Dhun Eideann.
Selina has just finished studying at Douglas Academy in Glasgow and has performed all over Scotland with other young upcoming artists and with the Feis Fhoirt Ceilidh Trail as well as playing in China.
Cameron studied at The National Centre of Excellence in Traditional Music in Plockton and is now studying in Glasgow. He has a lot of involvement with the Feis movement having toured with the Feis Rois Ceilidh Trail as well as teaching at Feis Fhoirt and has had lots of success performing with other up and coming artists all over Scotland. Cameron has been the Highlands and Islands young piper of the year for two years running and has also won awards at the Northern Meeting.
Callum is part of the St Rochs movement in Glasgow and has won awards for his Bodhran playing including coming 2nd place in the under 18s All Ireland Bodhran Competition at the Fleadh and has perfomed all over Scotland and Ireland with St Rochs and the Feis Rois Ceilidh Trail. Callum also featured on Ewan MacPherson's latest album.