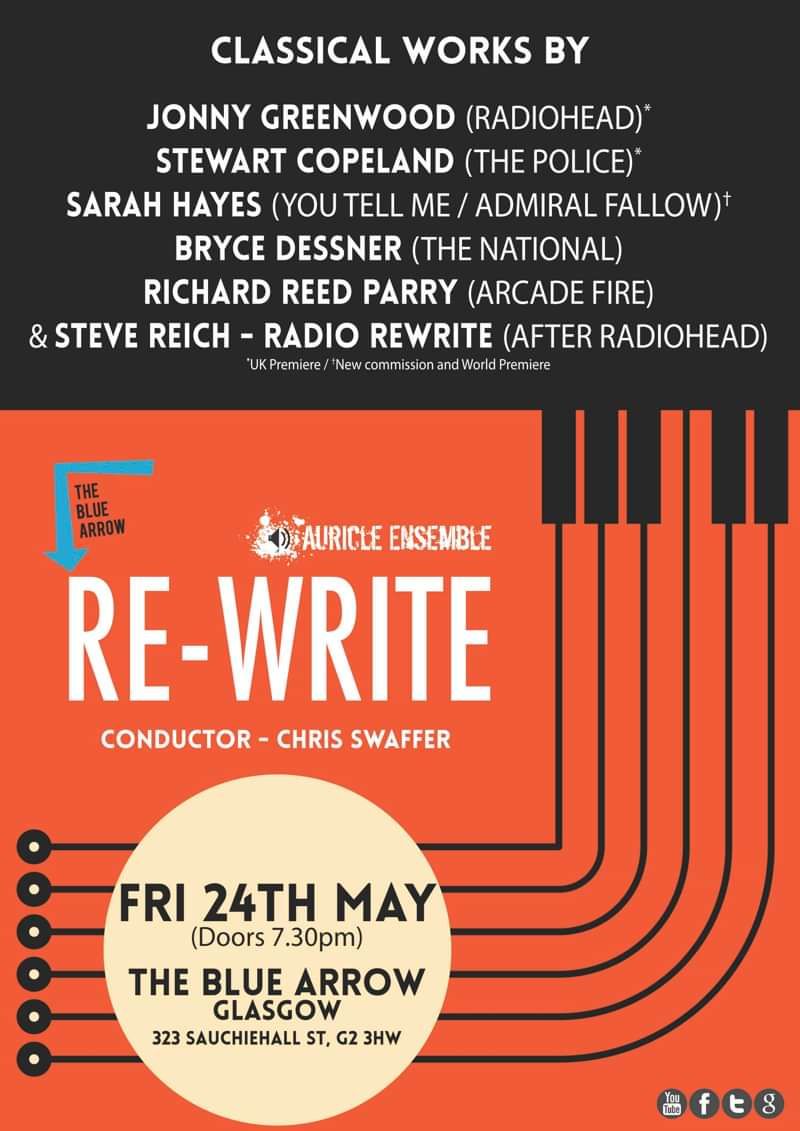 Auricle Ensemble: Re-Write
£13
Entry Requirements: 18+
Auricle Ensemble Re-Write
Overview The Auricle Ensemble perform Steve Reich's Radiohead inspired work 'Radio Rewrite', alongside classical works composed by Jonny Greenwood (Radiohead), Stewart Copeland (The Police), Richard Reed Parry (Arcade Fire) and Bryce Dessner (The National). A new commission from Sarah Hayes (You Tell Me, Admiral Fallow) completes the line-up conducted by Chris Swaffer.
Programme
Jonny Greenwood (Radiohead) 3 Miniatures from 'Water' UK Premiere '88' for solo piano (Piano – Laura McIntosh)
Stewart Copeland (The Police) Celeste UK Premiere
Sarah Hayes (You Tell Me / Admiral Fallow) World Premiere and Commission
Bryce Dessner (The National) Letter 27
Richard Reed Parry (Arcade Fire) Quartet for Heart and Breath Memorial
Steve Reich Electric Counterpoint, mvt III, for Electric Guitar (Guitar – Adele Neilson) Radio Rewrite (after Radiohead)
Quotes Artistic Director Chris Swaffer on Auricle's 'Re-Write': "Our project features work for classical chamber ensemble but by musicians from the worlds of rock and folk, allowing audiences to discover new facets of an artist via a totally different genre. Alongside established and published names like Jonny Greenwood and Steve Reich, we felt it important to commission and promote a new voice and we are delighted to be collaborating with Sarah Hayes. She is an extraordinarily versatile musician and her enthusiasm for cross-genre projects make her a perfect fit for Auricle."
Steve Reich on 'Radio Rewrite': "In September 2010 I was in Krakow for a festival of my music. One of the featured performers was Jonny Greenwood of Radiohead who had prepared all the backing tracks for my piece, Electric Counterpoint and then played electric guitar live against those tracks in concert. It was a great performance and we began talking. I found his background as a violist and his present active role as a composer extremely interesting when added to his major role in such an important and innovative rock group. Even Festival director Filip Berkowitz suggested I listen to Radiohead. When I returned home I made it a point to go online and listen to their music and the two songs mentioned above stuck in my head. It was not my intention to make anything like 'variations' on these songs, but rather to draw on their harmonies and sometimes melodic fragments and work them into my own piece. This is what I have done. As to actually hearing the original songs, the truth is—sometimes you hear them and sometimes you don't. Radio Rewrite is in five movements played without pause. The first, third and fifth are fast and based on 'Jigsaw' and the second and fourth are slow and based on 'Everything'.
About Sarah Hayes is a singer, flautist and keyboard player from Northumberland. Based in Glasgow since 2005, she leads a busy and varied musical life performing, writing and recording with Admiral Fallow, Field Music, Rachel Newton Band, Alistair Anderson & Northlands and more. Sarah's debut album Woven – a studio reimagining of her Celtic Connections New Voices commission – has received widespread acclaim. She has recently recorded a collaborative album of original songs with Field Music's Peter Brewis, scheduled for release in January 2019 under the name You Tell Me. www.sarahhayes.net 'A fresh, emotional collection' **** The Guardian
---
The Auricle Ensemble burst into in life in 2007 with intriguing programmes, virtuoso playing and an inclusive performance style. Formed by co-founders Kenny Letham and Chris Swaffer, the ensemble has since gained an enviable reputation and invitations to perform widely. It gained much acclaim for its Mini-Mahler project performing the reduced versions of Mahler's works as well as for playing live to film in the European premiere of Copland's 'The City' at the Glasgow Film Festival. The ensemble thrives on performing a variety of genres, from Miles Davis to Maxwell Davies, and as such, has some of Scotland's most versatile players as its members.
"thrilling...euphoric...an ambitious and inventive gig... **** " The Herald, Celtic Connections Festival "an inspirational programme from an incredibly versatile ensemble" 3weeks.com, Edinburgh Festival
---
Chris Swaffer is Artistic Director of the Auricle Ensemble and has guest conducted many orchestras, including the St. Petersburg Academic and Ukrainian State Symphony Orchestras, Ensemble 11, the Orchestra of Opera North, Slaithwaite Philharmonic and the Metropolitan Ensemble of London. Chris' passion for new music has seen him conduct countless premieres, including Steve Forman's 'Sprawl' at City Halls and seven world premieres at the Royal Northern College of Music with contemporary music group Ensemble 11. He recently premiered the opera 'Navigate the Blood' by Gareth Williams and the band 'Admiral Fallow' on a tour of Scottish distilleries for NOISE Opera. He conducted the first public performance of Howard Blake's Diversions for marimba in the presence of the composer with soloist Heather Corbett. Chris also lead a Scottish Opera Connect workshop on a new opera at Aberdeen University. With the Auricle Ensemble Chris directed several critically acclaimed projects, including Schoenberg's Pierrot Lunaire, a two year Mini-Mahler project and two European premieres of works by Aaron Copland. One of these works by Copland, 'The City', was performed live to film at the Glasgow Film Festival. He also conducted Auricle alongside the band Admiral Fallow, arranging two of their songs in a special gig for the Celtic Connections festival.
Social Facebook http://www.facebook.com/auricleensemble Twitter http://www.twitter.com/auricleensemble YouTube http://www.youtube.com/AuricleEnsemble Instagram https://www.instagram.com/AuricleEnsemble/ Webpage http://www.auricleensemble.org.uk/
Line Up
Auricle Ensemble: Re-Write