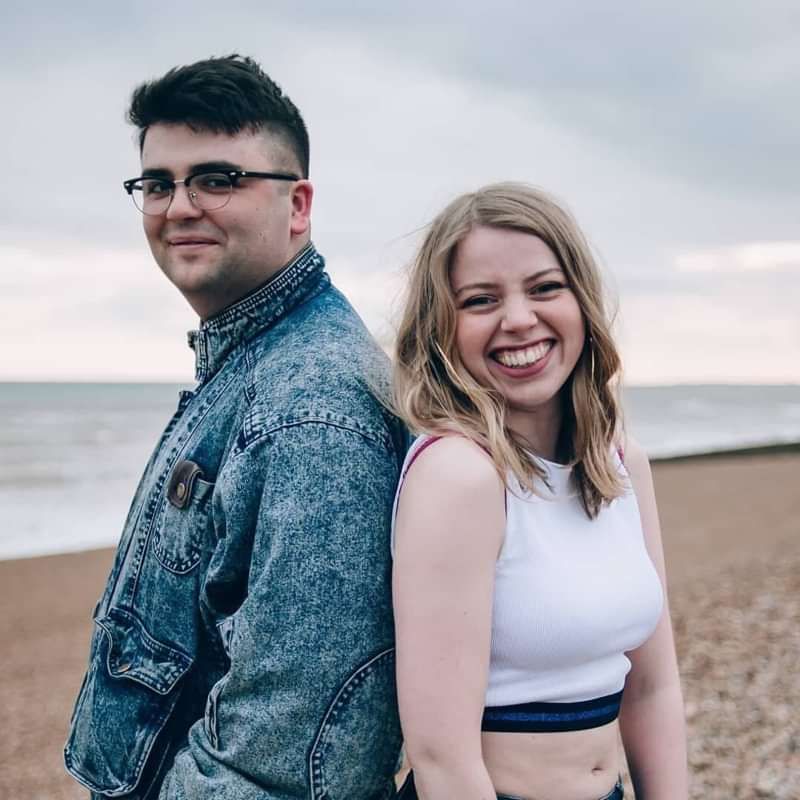 Chuchoter
+ SONJA + Katherine aly + Anna Sweeney
Chuchoter SONJA + Katherine Aly & Anna Sweeney Tickets on Sale Now > https://bit.ly/2sL6Ule 16.2.20
Chuchoter (pronounced 'shoo-shaw-tae') are an Indie-Electronic two piece based in Edinburgh, Scotland. Inspired by a mix of modern Pop and Disco their deep-soul vocals, strong, self-assured lyrics and dirty jazz production create a fresh sound with a club focus. Made up of vocalist Emily Smith and producer Owen McAllister, the band is a qualified pop effort, having studied Music and Music Technology (respectively) at the University of Edinburgh, with a goal of creating pop music which is both accessible and stimulating. Music
Line Up
Chuchoter - Biog - 2017
Emerging from Edinburgh's underground, electronic duo Chuchoter blend gripping pop vocal melodies with precise, striking synthesis. Inspired by a mix of modern Pop and Disco their deep-soul vocals, strong, self-assured lyrics and dirty production create a fresh sound with a club focus. Hailing from rural Aberdeenshire they grew up on James Taylor, The Smiths and Hall and Oates, but have strayed far from their original influences, now leaning towards artists such as Bossy Love, Shamir, Chvrches and Jamie xx. The band is a qualified pop effort made up of vocalist Emily Smith and producer Owen McAllister, both having studied Music at the University of Edinburgh with a goal of creating pop music which is both accessible and stimulating. Emily is in her final year of study and Owen is now a freelance audio engineer in Edinburgh. Having self-released a debut EP and played a plethora of shows, (including an impressive support slot for international rising stars Kllo) the band is now moving on to release a new single ahead of their second EP. Their single, "Pieces," is a dramatic showcase of the group's compositional ability: climactic and driven, whilst maintaining its subtleties. The song combines a reminiscent citation of retro synthesis, coupled with aspects of glitch music. The track is consistently sonically interesting, without sacrificing any of its emotive drive, resulting in an anthemic single that has something for everyone from electronic music buffs to fans of center-field pop music. With various upcoming shows (including Electric Fields 2018 and the final EP release, Chuchoter prove themselves a promising Scottish newcomer, and one to watch in 2018.
The Skinny Review of live performance with Australian electronic duo KLLO:
http://www.theskinny.co.uk/music/live-music/reviews/kllo-sneaky-pete-s-edinburgh-28-nov
"Chuchoter – vocalist Emily Smith and producer Owen McAllister – begin the night with one of their debut tracks, Credo Pt. 1, a song that truly encapsulates Chuchoter's style in a whirlwind of sprawling synth melodies and emotive vocals. The rest of their set continues this amalgamation of myriad styles, with sprinklings of disco, techno, and some classical chorus vocals. The latter part of their set boasts the addition of increasingly club-friendly beats and sassier lyrics which you can imagine being belted out by entire audiences soon. They also whip out their latest single Pieces, and by the end of their set the duo have the audience's unwavering attention. With eclectic songs, bags of confidence and an effortless stage presence beyond their years, Chuchoter are ones to watch. It seems undeniable that we'll see many more entrancing musical ventures from [Chuchoter], but in the meantime [they] need to be witnessed live." 
 
 The Skinny Premier of our Single 'Pieces':
http://www.theskinny.co.uk/music/new-music/chuchoter-pieces-track-premiere (also linked in above review)
"Edinburgh-based electronic outfit Chuchoter (pronounced 'shoo-shaw-tae') are vocalist Emily Smith and producer Owen McAllister. Although the duo grew up on the likes of James Taylor, The Smiths and Hall & Oates, they now class Bossy Love, Shamir, Chvrches and Jamie xx as influences on their heady mix of beats and dancefloor-friendly tunes. Having released their debut EP Credo last year, Chuchoter are now set to self-release their new single Pieces – listen to it in the player below – on 1 Dec ahead of the release of their upcoming second EP. "[Pieces] is about guys in clubs who come on a bit too strong with unwarranted attention – essentially fuccbois – and about my ideal reaction to them," Smith tells us. "In real life you don't normally get the opportunity to release all your inner crazy and just scream and tell people exactly where to go. So where I would usually give someone a dirty look, in the song I say everything that look means – essentially, 'If you try anything, you'll regret it'. 

"When Owen gave me the track to work on it didn't take long for the lyrics to start flowing. I think it's a more common scenario than any of us would like it to be, so it wasn't difficult to find inspiration, and after that it was just a case of letting go and allowing the lines to form. I think the bridge is probably my favourite part to perform because we get to use the vocal shifter to pitch me down a few octaves and you can sometimes see people jump at that bit. "It's a really fun song with lots of attitude. It was a difficult one to record because of the loud vocals on the chorus and the contrast between that and the softer verses, but I think what we ended up with is energetic and powerful."" 
 Spinnup Introducing: Chuchoter
https://spinnup.com/blog/introducing-chuchoter/
'We're back for 2018, showcasing a different Spinnup artist each week that we think you need to know about with #SpinnupIntroducing.
The first act up for the year is Scottish electronic duo Chuchoter. The Edinburgh based duo immediately caught out attention late last year with their debut Spinnup release, 'Pieces', a buzz-worthy electronic jam packed with disco-pop synths and catchy melodies. Obviously we had to know more about the newcomers.'
''Pieces' is an incredible track, so many layers and moving parts.'
YouTube: 'Gloria' Music Video
https://www.youtube.com/watch?v=Ord5nRgabGY
Our Soundcloud Profile:
https://soundcloud.com/chuchoter
Other Links:
 Website: chuchotermusic.com Facebook: facebook.com/chuchotermusic/ Twitter: twitter.com/Chuchotermusic Instagram: instagram.com/chuchotermusic/
BIO
21-year-old singer-songwriter Sonja Autio, from Finland, studied classical piano from age 7, and began composing songs in her teens. Her subjects evoke joy, grief, ecstasy, loneliness, solitude, and oneness, often all at once.
From early childhood it was obvious Sonja was a natural-born-entertainer, and obsessed with writing music and performing live. She studied music theory, dance, jazz, R&B, soul, and dance-pop. Her musical influences include Amy Winehouse, Adele, Billie Eilish, Halsey, and Rihanna.
At 19, Sonja landed in New York City to fulfill her lifetime music ambitions. She met and signed with indie music label Imaginaryou, LLC. founded by Grant Brazer. In the summer of 2018, Sonja further developed her songwriting and vocal abilities in London, UK, and returned to America in the spring of 2019.
In 2020 Sonja will internationally debut two singles, "Protect Your Heart", and "Sunlight." Other singles will follow culminating with the launch of her debut LP, entitled "Ghosts".