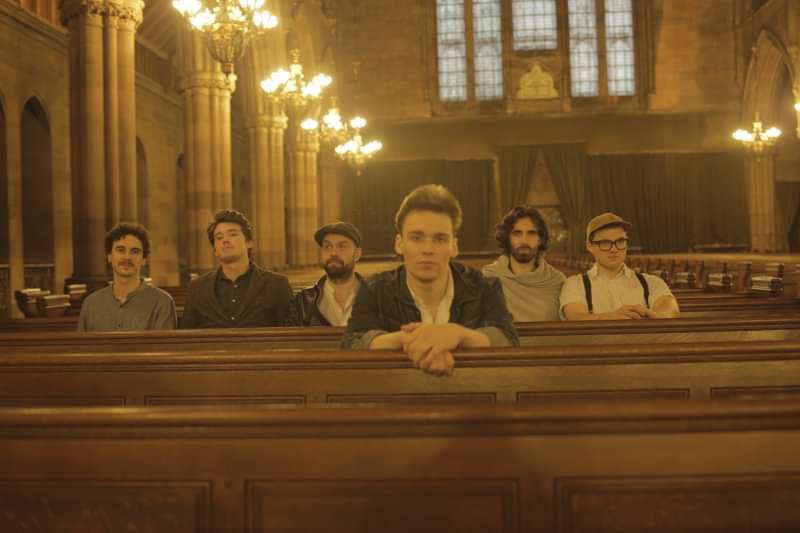 The Black Denims
+ Zoë Bestel + Jack Richardson
£8
Entry Requirements: 18+
The Black Denims are a 7 piece Rock 'n' Roll outfit from Glasgow Scotland founded by 24 year old song-writer, Scott McPherson.
Scott has a very honest and visceral approach, in his song-writing, to the struggles of heart break and lonesome nights. This theme is heard in the melancholic and contrite lyrics that compliment the Americana/Roots style of instrumentation that the band serve their audience in their ferocious live performances.
With this, McPherson is joined by Iain Gordon-Smith on the bass, Gavin Lamont (The Hoojamamas) on the percussion. Tim Brough (Tom McGuire & The Brassholes) on piano duties, Timmy Allen (Awkward Family Portraits) on Mandolin and Electric Guitar, Conor Smith on Pedal Steel and finally, Roo Gedes on the Violin.
The band have grown over the years from, back in the day, being a two piece blues-punk band to now a 7 piece group orchestrated by some of the most tasteful musicians Glasgow has to offer. Each member comes into their own and moulds their individual character into the project thus making for a very diverse overall sound.
Whilst the The Black Denims have very rock 'n' roll roots, they can also be appreciated under a more sentimental light with their more acoustic, melodic approach to songwriting. Scott notes the inspiration behind the song-writing stems from years of reading work from old love drunk poets and listening to the likes of Hank Williams, Bob Dylan and Warren Zevon. So expect to find a few tips of the hat in the recordings.
Line Up
Ethereal vocals, poignant melodies and stirring lyrics describes award winning nu-folk singer/songwriter and musician, Zoë Bestel, hailed as one of the countries most exciting emerging talents.
As well as numerous BBC radio and TV performances, Bestel has captivated audiences across Denmark, Germany, Finland, Norway, and the Czech Republic, as well as numerous festivals including Orkney Folk Festival, Cambridge Folk Festival, and Celtic Connections
2018 brought the launch of her second album and fourth release, 'Transience', recorded and produced in Copenhagen in the summer of 2017. Bestel was signed that November to the world's first crowd-funded label 'Last Night From Glasgow' who brought her new work to vinyl. 'Transience' released globally, to high acclaim, on Record Store Day April 2018. A new album is on the horizon for 2020.
"Audiences are fast catching up with the fact that, in Bestel's hands, the ukulele shrugs off its stereotypical comedy baggage and becomes the instrument of choice for one of Scotland's most fascinating young singer-songwriters."- The National
Website | Facebook | Youtube | Twitter | Soundcloud | Spotify
Contact bookings[at]zoebestel.co.uk