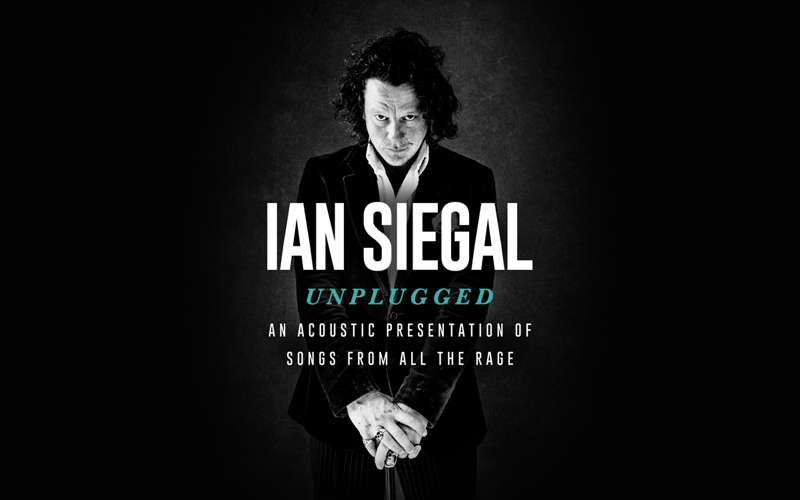 Ian Siegal
+ Anton & The Colts
£16
Entry Requirements: 18+
Buy Tickets
2018 was another milestone year for the UK's favourite contemporary bluesman and renegade Americana'man. He scooped Best Male Vocalist and Best Acoustic Artist in the UK Blues Awards, adding to a long list of accolades in the UK, Europe and USA.
For Spring 2019 Ian will tour an unplugged presentation of songs from his latest album All The Rage including a beautifully adapted acoustic version of the soul stunner, Sweet Souvenir.
Classic Rock tags Siegal "a national treasure," America's blues bible says "vast talent" and MOJO magazine ranks him "the cleverest writer and most magnetic blues performer in the UK."
While he is known as a bluesman and often seen fronting his electric band, it's just one shade in the palette of an artist who slips between continents, eras and expectations. His forte is playing to an audience. He takes command of the stage in a way very few artists alive today can match. Sweat, passion, humour, incendiary slide guitar and a soul-infused voice big enough to fell trees. When it's just man & guitar those qualities shine through even stronger.
Line Up
The ATC sound draws on numerous influences: the pristine vocal harmonies of country and bluegrass, raucous bluesy guitars, the tight swinging rhythms of classic soul and funk with Anton's sweet smokey growl accompanied by tales of love, regret, addiction, good times, bad times and everything in-between.
Since their inception in June '14 and the release of their debut EP, '6:45 & 450 Down' at the beginning of 2015, the band has played numerous venues and festivals throughout Scotland including Glasgow's ABC, King Tuts; the Belladrum festival, Southern Fried festival and the enchanting Eden festival.
The miles travelled and the countless hours of stage time has helped shape a sound that takes many twists and turns during their live set; all of which has been wrapped up neatly and dressed in a pretty little coat with their debut album, 'No End of the Line'.
"After about four years of relentless gigging the length and breadth of Scotland, Anton & The Colts finally unleash their debut album and a fine beast it turns out to be. The band, based around front man and chief writer Anton O'Donnell and the mercurial woul...d be glimmer twin, Roscoe Wilson (with a fine rhythm section in John Dunlop on bass and Dillon Haldane, drums), are one of those who sound more American than many American bands do. However there's a boastful swagger to their gait which owes more than a little to the raunch of the Stones and the jollity of The Faces, in particular, Ronnie Lane's contributions to the band such as on Ooh La La." Blabber 'n' Smoke
"Country Rock Deluxe From The Clydeside Delta" Rocking Magpie
"Their ace combination of rock swagger, blues groove, and the rough and tumble of Americana is one few Scottish bands can match." The Music Brewery
"Roscoe and Anton have been the finest musicians and songwriters I've known. This collection of songs has been recorded with love, time and more care than you can imagine. Sure, I love them live - Anton's voice and Roscoe's Midnight Wine Telecaster bursting through my ears, shining light and thunder... but this is something beautifully done, different entirely. Anton & The Colts are a band that kick ass on this and kick ass live, which is rare these days. Here is a record born of great musicianship, fine production and engineering and deep thinking. That violin sounds perfect -there's no other word for it. That piano on 'My Favourite Song' and Anton's finest ever vocal tore me up. I could go on endlessly, but you should just get this record. I love this album." Sir Matthew Dickson
"like Robbie Robertson & Rick Danko having a jam session in the company of Mr Jack Daniel"... Bluesbunny
"The Glasgow lot bring the country-fried soul-meets-bluegrass ruckus with the occasional thunderous edge." The Skinny